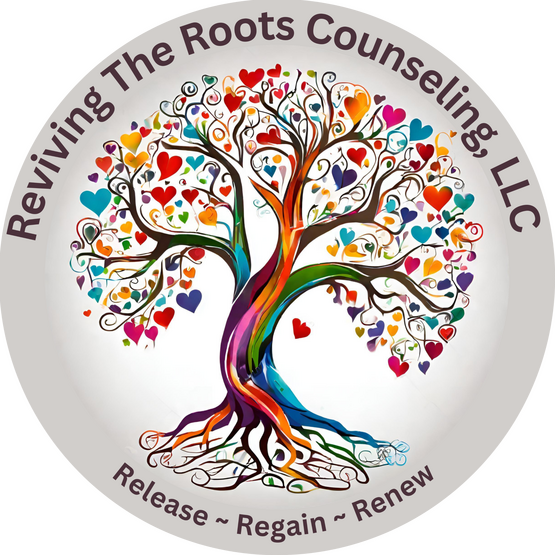 Welcome to Reviving The Roots Counseling
A Space for Clients to Release Trauma, Regenerate Roots, and Regain Resilience
********************************
"Play therapy: where young hearts plant the seeds of healing, and the roots of resilience grow strong."
********************************
"EMDR untangles the roots of trauma, allowing the strength within to flourish."
About
Stacey's educational journey began at Capella University, where she graduated in 2017 with a Master's degree in Mental Health Counseling. Her dedication to her field led her to earn her LMHCA (Licensed Mental Health Counselor Associate) in December 2017, followed by her LMHC (Licensed Mental Health Counselor) in February 2021. Since 2017, she has proudly held her NCC (National Certified Counselor) certification.Stacey's commitment to holistic healing extends to her specialized certifications. She is a Registered Play Therapist, Certified AutPlay Therapy provider, and a clinician trained in EMDR (Eye Movement Desensitization and Reprocessing).For over half a decade, Stacey has been making a positive impact as a school-based mental health therapist, primarily in elementary schools. Her clients often present with diagnoses ranging from trauma and anxiety to depression, grief, DMDD (Disruptive Mood Dysregulation Disorder), ODD (Oppositional Defiant Disorder), ADHD (Attention Deficit Hyperactivity Disorder), and Selective Mutism.Beyond her work with children, Stacey has extended her therapeutic support to survivors of domestic violence and youth grappling with sexually maladaptive behaviors, particularly in the 10-15 age group. In recognition of her expertise and dedication, she earned her CSAYC (Certified Sexual Abuse Youth Counselor) credential in November 2022.Trauma work and play therapy hold a special place in Stacey's heart, and she has honed her skills through training in TF-CBT (Trauma-Focused Cognitive Behavioral Therapy). She embraces every opportunity for professional growth and considers herself a lifelong learner, committed to staying at the forefront of therapeutic knowledge. Stacey is driven by a deep passion for her work and strives to share her expertise and therapeutic zeal with both her colleagues and cherished clients.
Services
At Reviving The Roots Counseling, LLC, our mission is to guide individuals on their journey towards unlocking their full potential while tending to the roots of past traumas.Picture yourself as the sun, radiating rays that represent the positivity in your life. Yet, there are times when these rays become obscured by clouds, symbolizing the lingering effects of past traumas. While some individuals may find it challenging to see beyond these clouds, Stacey firmly believes that each person possesses an innate brightness. Through therapy, we aim to help you unearth the sunshine hidden behind those trauma-induced clouds.Are you currently wrestling with unresolved traumas or feeling trapped in their shadow? Life's path is unique for each person, and sometimes, we may stray from our intended course, necessitating the guidance of a compassionate hand. Reviving the Roots Counseling, LLC, aspires to be that guiding presence for you and your children, aiding in the journey towards a fulfilled and joyful life by addressing the roots of past traumas.Stacey, a dedicated therapist at Reviving The Roots Counseling, LLC, employs an eclectic therapeutic approach that encompasses person-centered therapy, child-centered play therapy, CBT (Cognitive Behavioral Therapy), mindfulness techniques, sand tray therapy, and EMDR (Eye Movement Desensitization and Reprocessing). This comprehensive approach ensures that therapy is tailored to dig deep into the roots of trauma while nurturing healing and growth.While Stacey is adept at working with clients of all ages, her niche lies in providing specialized support to children aged 3 to 11.For your convenience, we are in-network with Anthem BCBS, United Healthcare, and UMR. We also offer self-pay options for those without insurance coverage. Our session fee is $120 for a 53-minute session, with an intake fee of $150.At Reviving The Roots Counseling, LLC, we are committed to helping you rediscover the radiance within, free from the shadows of trauma, and to assist in the blossoming of your resilience and hope.
Reviving The Roots Counseling, LLC
Stacey Bostian-Miller, MS, LMHC, NCC, CSAYC, Registered Play Therapist,
EMDR-Trained Clinician, and Certified AutPlay Therapy Provider20 E. Airport Rd., Ste. 1300
Brownsburg, IN 46112
317.426.7251HOURS
Fridays 8:00am - 5:00pm
Contact